Life categories. Work-life balance and much more.
Have you ever wondered how to balance your life and make sure you live with your values?
Have you ever found yourself in unsustainable circumstances? Everyone from time to time will focus too much on work or maybe sacrifice exercise because of family.
Whatever that is, it's good to start categorizing your life. To see what's actually out of balance and assess your values to see how do you want the balance to look like.
But, here is a problem. There are so many ways of looking at our life that it's hard to pick one.
It's related to the book The Organized Mind: Thinking Straight in the Age of Information Overload by Daniel J. Levitin. I can recommend it as well.
Categories #
Work-life #
You probably heard about "Work-life balance". Wikipedia calls it Work–life interface, but the idea is pretty simple. You categorize everything into a list of 2:
Work
Life
Practices for ongoing health and happiness #
In the book Play It Away: A Workaholic's Cure for Anxiety by Charlie Hoehn author puts ongoing activities he recommends into:
Mind
Body
World
But it's worth pointing out that he recommends replacing anything you would call Work with Play.
Work -> Play
3 Gardens #
This one is coming from a Polish author: Życiologia, czyli o mądrym zarządzaniu czasem by Miłosz Brzeziński
Work
Home
Self
Work + Home + Community + Self #
A more realistic and gratifying goal is better integration through "four-way wins," which improve performance in all domains.
Work + Home + Community + Self is more about integrating those categories instead of thinking about tradeoffs. But it still creates categories.
Work
Home
Community
Self
Cal Newport's 4 C's #
Community
Craft
Constitution
Contemplation
Values #
Related to categories and often used in worksheets and assestments as Values. Let's see some of them.
10 basic values from Shalom Schwartz's theory #
I've found it in "There are just 10 basic values".
Self-direction
Stimulation
Hedonism
Achievement
Power
Security
Conformity
Tradition
Benevolence
Universalism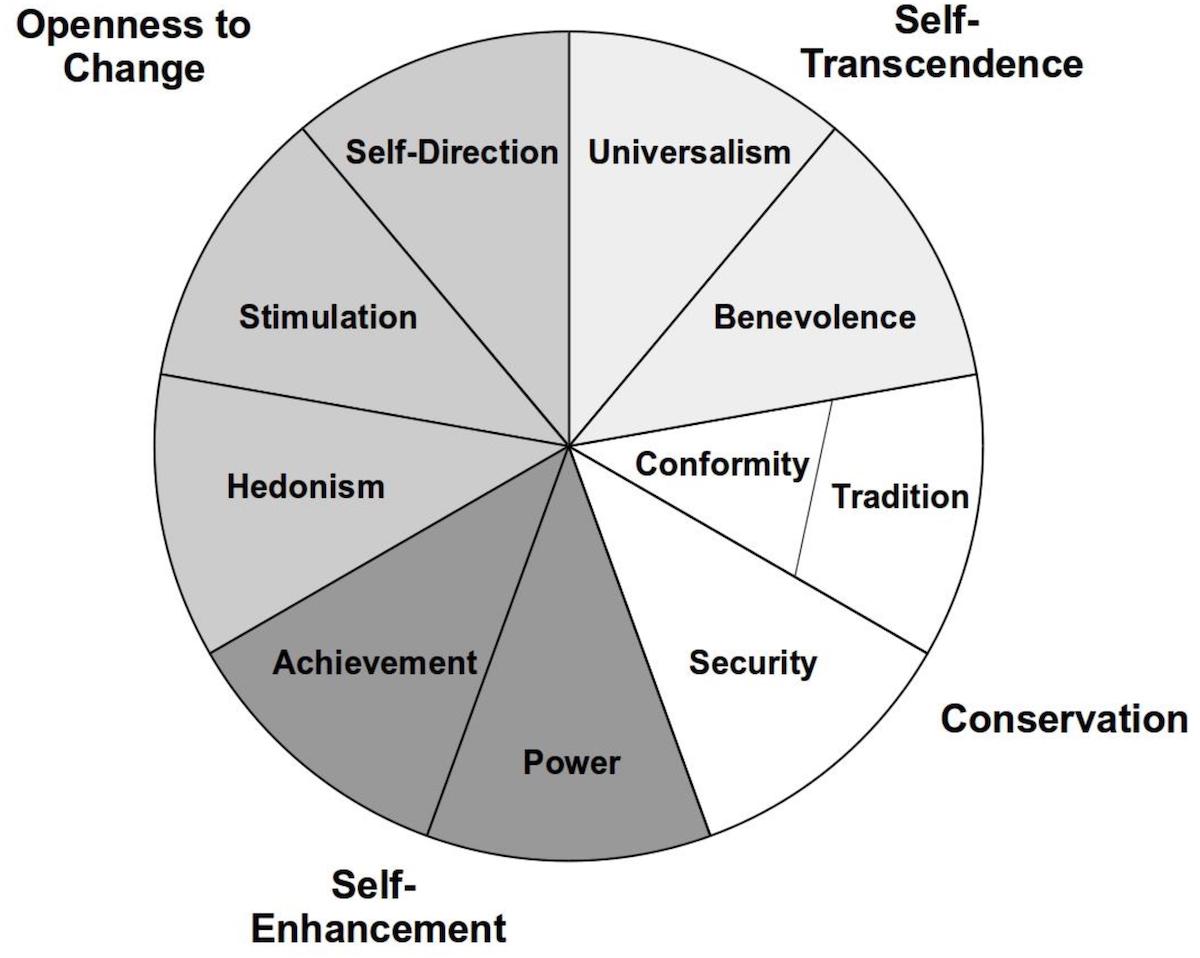 Values in Acceptance and Commitment Therapy (ACT) Therapy #
There is a long list like A full list of values for Acceptance and Commitment Therapy (ACT), but those are intended for you to pick the ones that interest you.
Let's see some ACT uses in worksheets and exercises:
The "Bull's Eye" #
The "Bull's Eye" is a values-clarification exercise designed by Tobias Lundgren.
Four important domains of life:
Work/Education
Leisure
Relationships
Personal growth/Health.
I like The Bull's Eye on the Bullet Journal page if you want to read more.
The Valued Living Questionnaire (VLQ) #
The Valued Living Questionnaire (VLQ) in The 3 Best Questionnaires for Measuring Values
Family
Marriage and intimate relationships
Parenting
Friendship and interpersonal relationships
Professional life
Academic life
Leisure and recreation
Spirituality
Citizenship
Self-care
More #
You may also be interested in reading about Keystone habits.
---
Want to learn more?
Sign up to get a digest of my articles and interesting links via email every month.